Zachary Handcrafted Guitars - Zachary Z1
XXXX97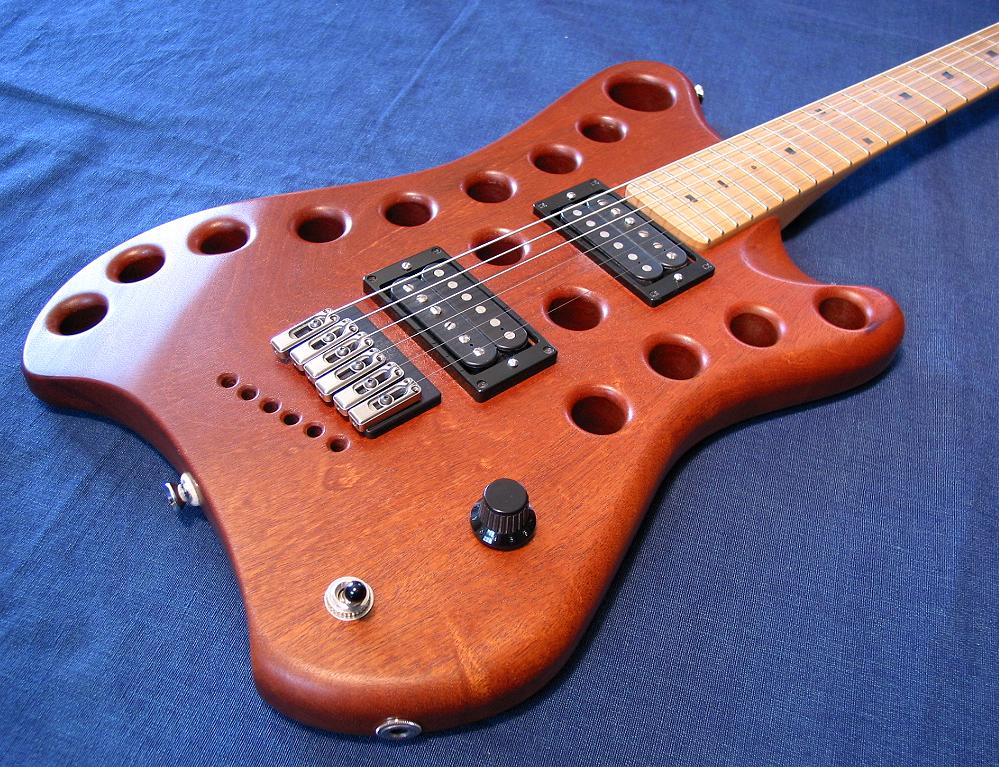 Body Style: Z1
Body Wood: Mahogany (one piece)
Neck Wood: Maple
Fingerboard Wood: Maple
Scale: 25.5"
Tuners: Kluson-style
Pickups: neck and bridge - DiMarzio
Controls: master Volume, 3-way LP toggle
Neck Joint: bolt-on
Strings: Zachary Optimum Tensions, 10+ set
Weight: 6.5 lb.
---
Inspiration
Here is a glimpse at the early days when I first set out to upset the world with my guitar building ideology.
This is the first Zachary Z1 guitar and one of the first instruments I ever made.
This was a landmark guitar for me. Its also the first Zachary with holes. Before this guitar, I was only a hobbyist, a pissed off tinkerer, who felt ripped off by the new glossy and over-hyped PRS I bought not long before. After I made this guitar, I knew I really had something. It was my main instrument for some time.
This is definitely the first Zachary guitar worth displaying and the first which qualifies as a functional, well designed and a professionally built instrument. However, as you can see, its still early in my development of the eventual Zachary design. The headstock is the most salient undeveloped feature. I had not come up with the Samurai headstock yet, in order to simplify the design even further. The goal has always been to simplify guitar design to its most pertinent features and eliminate everything else. By the way, I still like this headstock. It really fits the Z1 I think.
Also notice the neck position marker "inlays" are just paper stickers.
The whole idea behind the Z1 was to make it have the vibe of a cheap 50s or 60s department store guitar, in terms of the shape, but have it play and sound like nothing else. A truly high performance, organic instrument.
The holes were drilled as a necessity because this piece of Mahogany was excessively heavy and I needed to lighten up the guitar. It also has a non-adjustable truss rod, as used on vintage Martin acoustics and no single coil pickup switching.
Can you spot the other things that are different from what I currently do?
---