Zachary Handcrafted Guitars
270218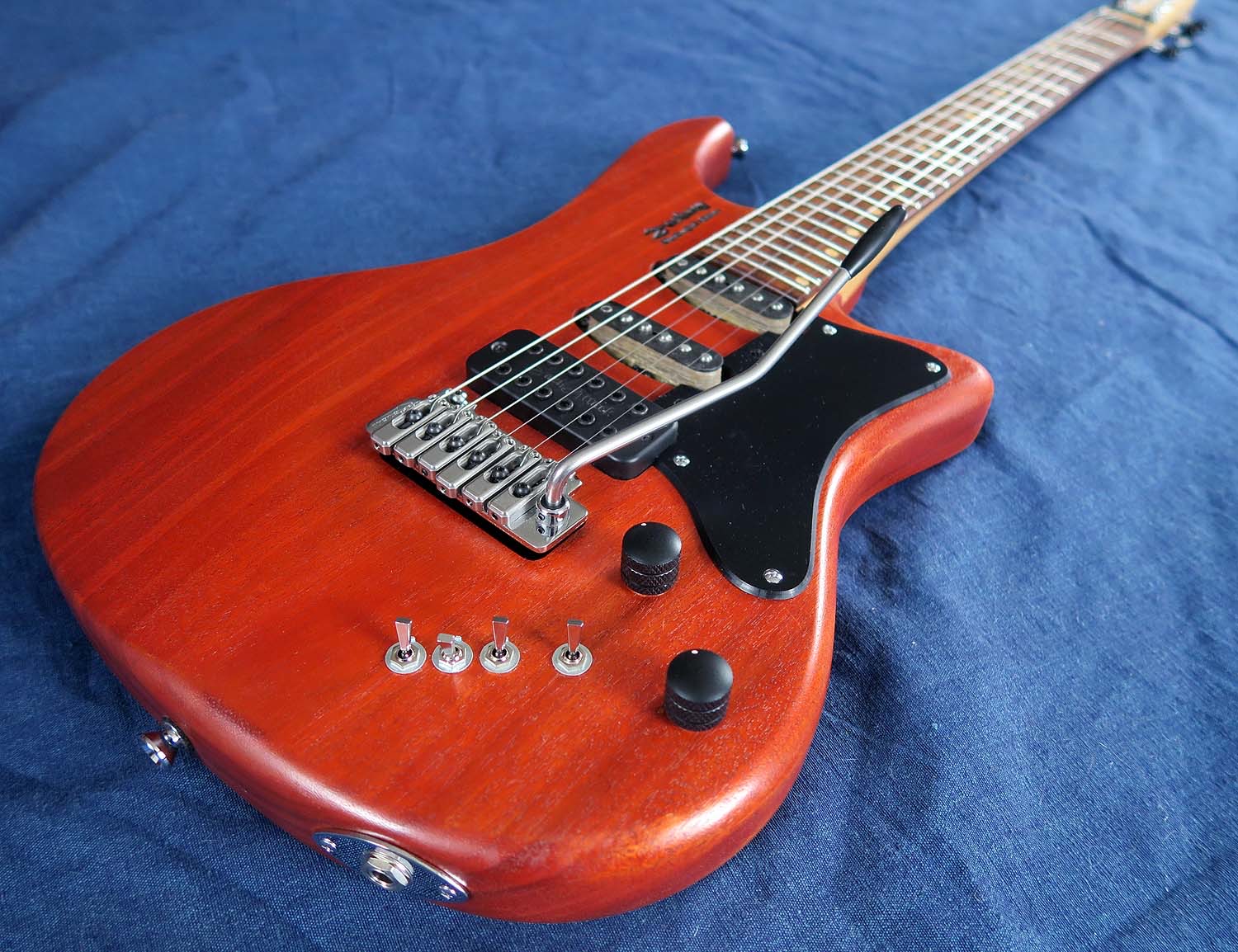 Body Style: Z5-T
Body Wood: Mahogany, 1 piece
Neck Wood: Maple
Fingerboard Wood: Pau Ferro
Scale: 25.5"
Tuners: Gotoh sealed
Frets: 24 (Large) Stainless Steel
Pickups: neck & middle - Fender 57/61; bridge - Zach Attack
Controls: master Volume and Tone, 3 on/off, 1 coil split;

Neck Joint: Spiked, machine screws / metal inserts,

Strings: Zachary Optimum Tensions, 10+ RW set
Weight: 7 lb.
---
Inspiration
I haven't built a Tremolo guitar for a long time, so it was a welcome challenge once again, when I was commissioned to make this instrument. The customer knows me well enough to only have 3 preferences; give me a tremolo, round the edges and do not use a rotary switch. I hope that was it and I did not miss anything.
I wanted to combine two vintage-powered Strat single coil pickups with a Humbucker but to also be able to cut the coil of the Humbucker and make it single coil. This Zachary Tremolo guitar works like a charm, as always, and stays in tune like no other non-locking trem guitar. The trem action is very light and responsive, also as usual for a Zachary guitar. The body is one single piece of light-weight Mahogany stained orange and then oiled. I chose to use very large and tall Stainless frets.
When making a tremolo guitar, my goal has always been to make it better than the Fender Stratocaster. The Stratocaster is a masterpiece in many ways and remarkable and revolutionary for when it was released in the early 50s. However, there are flaws in the design which were either never address or only partially addressed. Nobody seems to care. One cannot totally fault Fender for this because largely the consumer, the guitar enthusiast world-wide dictates as to what guitar companies produce and what they design. Guitar companies do not have a vision, they are not interested in innovation and they are not technically or passionately driven to do the right thing, when it comes to revising and improving a historic model. All they care about is sales and staying in business. This is why the consumer then becomes the dictator of guitar products. This sounds perfectly admirable, however, the problem is that the guitar consumer is not an informed individual but more driven by nostalgia and aspiration, instead of technical knowledge. The technical knowledge of the average guitar consumer ranges from poor to dismal. Fantasy, not rationality rules the purchasing decision of the guitar enthusiast.
This is where someone like me comes in. Making guitars entirely by hand, I concentrate in doing the right thing. I throw out whatever is wrong and keep everything which is right, in terms of traditional guitar designs like the Stratocaster. The danger in doing this, is that the guitar consumer will not be knowledgeable to appreciate it or to even notice the innovation and improvement. Commercially, this is not a good business move. However, I am not concerned about that. Making a small number of guitars per year, my concentration is on my own excitement and satisfaction in creating instruments I am personally challenged and inspired by. I make the best instruments for ME, not the guitar consumer. If you are a guitar enthusiast, who happens to be in congruence with my aspirations and philosophy, then we can work together and I will be happy to make you a Zachary guitar.
My message to the new CEO of Fender. Adopt my business philosophy if you want to destroy the entire company. The guitar consumer, the dwindling number left, will see to it that you go down and fast. So just keep making what Leo created in 1954, its what everyone will always demand. Can you imagine if every other industry functioned this way?
Take look at the YouTube video of this guitar in action.