Zachary Handcrafted Guitars - Firebird 220717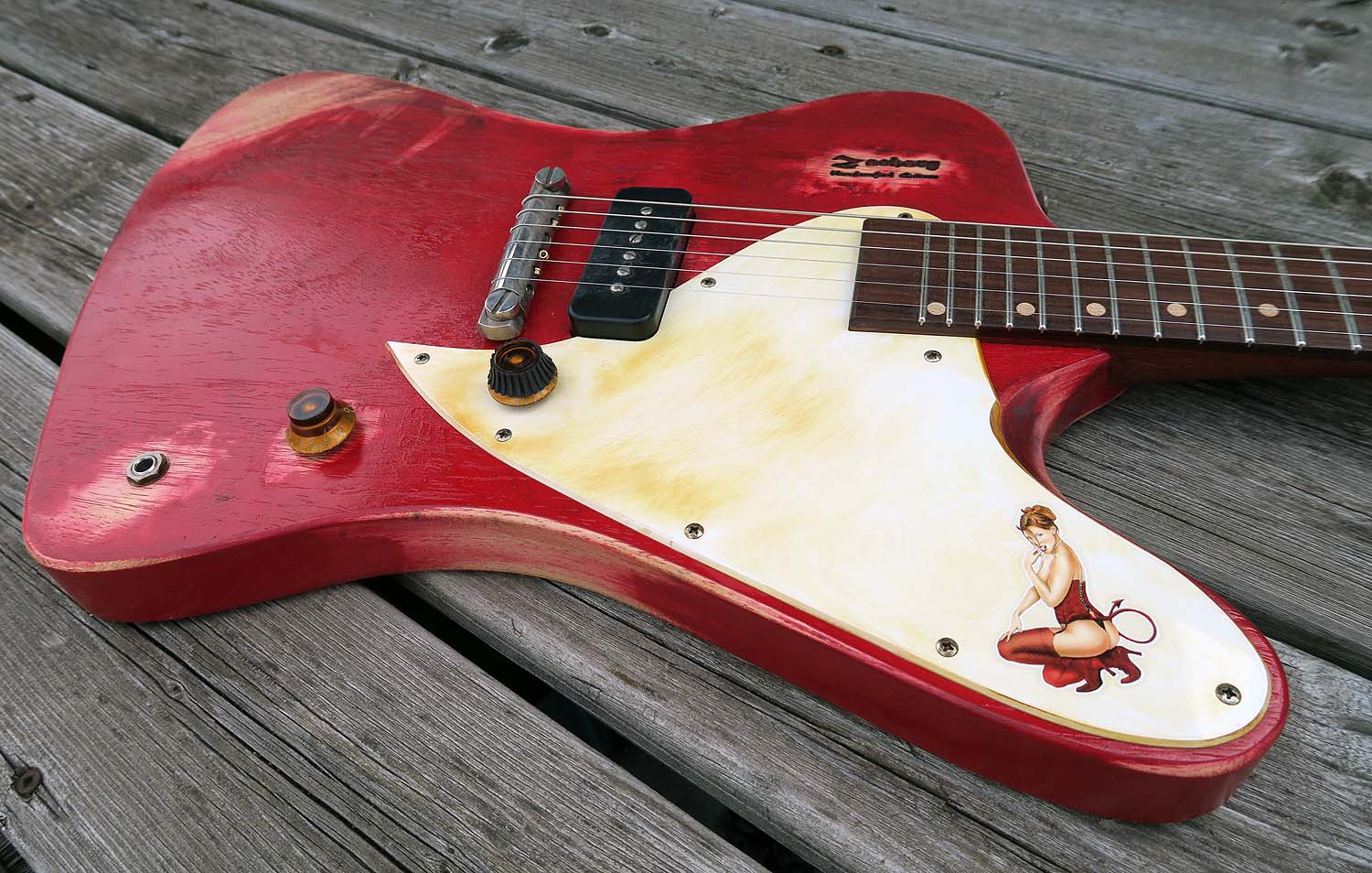 Body Style: Z-Bird (Firebird)
Body Wood: Obeche, 1-piece
Neck Wood: Mahogany
Fingerboard Wood: Pau Ferro
Scale: 24.75"
Tuners: Kluson - vintage style
Frets: 24 (Large and Medium mix)
Pickups: P90, 11K
Controls: Volume, Tone
Neck Joint: Spiked, machine screws / metal inserts
Strings: Zachary Optimum Tensions, 10++ set
Weight: 6.5 lb.
---
Inspiration
I always wanted to build a one pickup Firebird. Something about the concept is really cool and radical. In fact, I wanted this to be a real vintage-inspired instrument and as simple as it can be. As light weight as it can be. As organic looking and feeling and sounding as it can be. No plastic sterile mass produced guitar here, which ultimately does not give you satisfaction, being so inanimate and manufactured.
What I did, since its a one pickup guitar, is to definitely add a Tone pot but even more ingeniously, I moved the single over-wound powerful P90 pickup further toward the neck, to add more warmth and get rid of the thinness usually characteristic of bridge pickups. The wrap-around tailpiece is a must for his theme and to be consistent with vintage Gibson design cues. Had Gibson built a Firebird Junior, this would have been the guitar. Well it may have looked like this in a way but it would have never been a Zachary. Remember on a Gibson Firebird, the neck stick out way more from the body, thus its neck heavy and actually a poor design. My Z-Bird is a much better balanced guitar. Due to the soft and light weight woods in both the body and neck, this 6.5 lbs guitar is a tone monster, you can play on a strap all night and put any other Firebird and their owner to shame.
The first 5 frets are Stainless Steel and the rest are the traditional Nickel Silver. This means that since the first few frets are the ones to wear, this fret job will last forever. The action is super low and the neck is super fast. I hope you like it that way as well. This is the guitar which would make Joe Bonamassa abandon his religion and save also him a lot of money.
---