Copper Rose
090218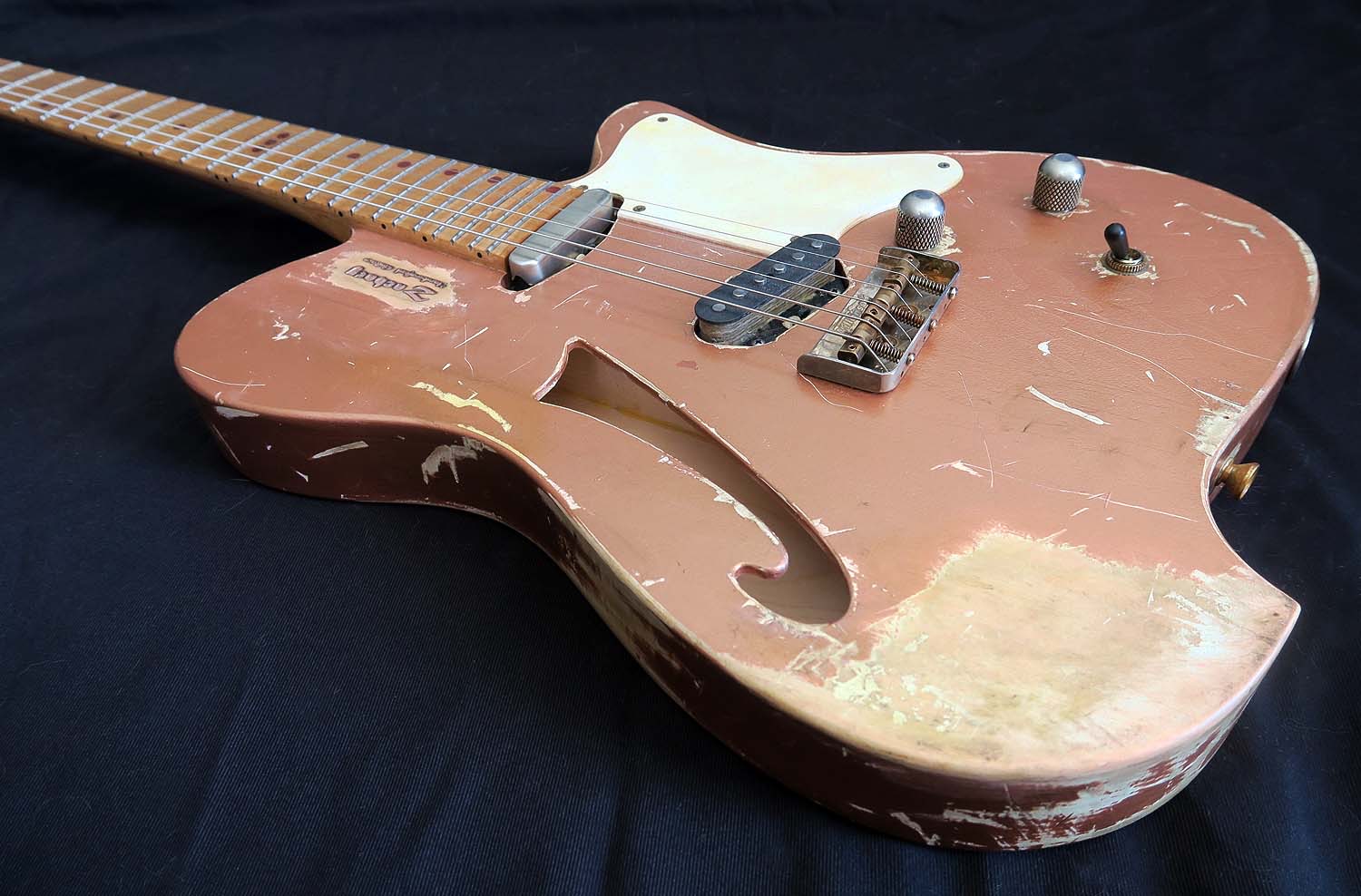 Body Style: ZT-SH (semi-hollow Thinline)
Body Wood: Soft Maple
Neck Wood: Maple
Fingerboard Wood: Maple
Scale: 624 mm (vintage 50s Gibson)
Tuners: Gotoh - Kluson-style
Frets: 24 (Medium Stainless)
Pickups: neck - custom Tele 6.4K , bridge - custom Tele 8.4
Controls: master Volume and Tone, 3-way LP-toggle
Neck Joint: Spiked, machine screws with metal inserts,

Strings: Zachary Optimum Tensions, 10++ RW set
Weight: 5.5 lb.
---
Inspiration
The Fender Telecaster Thinline has always been appealing to me; a worthy addition to the Fender line, which I cannot say about all their models. I like that hollow quality in the feel and the tone. Its so cool to have a solid body guitar, which is actually hollow and thus its functionality is modified because of it. Its kind of a contradiction but in a good way, which I find mystical.
Although, I never did like the Fender execution of this model, most Fender models for that fact. Partially its iconic and even genius but then its execution ruins it. Regardless, of all the hype about vintage guitars - and the nostalgic brain poisoning of the consumer masses - by the vintage guitar media, by pro guitar endorsers, by sentimental collectors, by vintage dealers - most of the original vintage guitars are quite gross in terms of modern standards of tone and feel. In terms of the late 60s Fender Thinline, they are thick Polyurethane covered, have awful feeling necks and are not actually very resonant, despite their chambered construction. Its something which was obviously executed half-assed by corporate non-players.
I set out to remedy all of this regarding the Thinline design, despite the indoctrinated ignorance of the guitar enthusiast, who may not be ready to appreciate it.
What I make is, living, organic instruments, instead of a sterile inanimate mass produced objects, to which a human is not able to bond viscerally. I do this of course by my aversion to plastic Poly paint and CNC computer-programed manufacturing. In terms of the design and construction, my version of the Thinline is quite different. My chambers are larger because my sides, top and back are a lot thinner. What you end up with is a huge difference in the resonance of the body and even less weight. This amazing instrument is 5.5 lb of pure muscle, half the weight of a 70s Gibson Les Paul. Have you ever played an electric guitar which is 5.5 lb?
The result is that this instrument is amazingly resonant and responsive. The pickups are also wonderful, very balanced in tone and balanced to each other and surprisingly quiet for vintage spec Tele pickups. I specifically stagger and bevel the pole pieces of the pickups to match the magnetic pull of each string. You can be sure that on standard Tele pickups you have a volume imbalance between strings, which personally drives me crazy. The Spiked neck-joint is of course a marvel of engineering in terms of tone enhancement, as well as action adjustment flexibility. The frets are tall, Medium and Stainless Steel, leveled to where the action is impossibly low. As you can imagine, this instrument has virtually nothing in common with the late 60s Fender Thinline Telecaster or any new reissue of it.
The bottom line, its a guitar you as a human will bond with, unlike the sterile abominations which are regarded as the "highest quality" and highest priced guitars of today. The ignorant guitar consumer is deceived by it, especially if John Meyer is paid to deceive you. Its unfortunate because John Meyer is a uniquely articulate and talented individual. John 5 also comes to mind. What an amazing player. However, my message to John 5 is that a Tele with a bridge humbucker is NO Tele; its sacrilege. You should know better than that John 5.
The bottom line is that if I could only have one guitar, I would be perfectly content and happy with this instrument. This is my new Number One.