Zachary Handcrafted Guitars
070118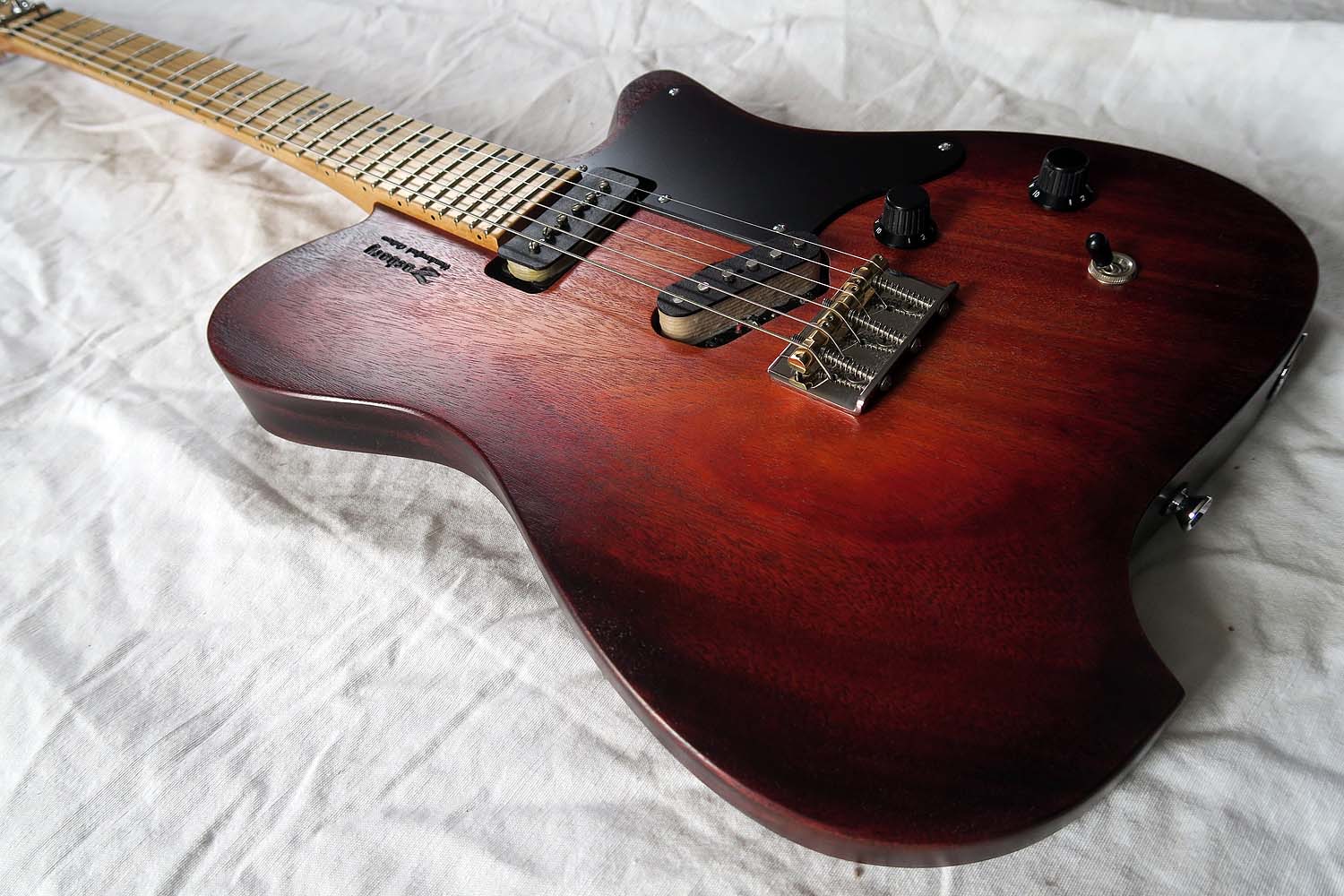 Body Style: ZT
Body Wood: Mahogany (African)
Neck Wood: Maple
Fingerboard Wood: Maple
Scale: 624 mm
Tuners: Gotoh sealed
Frets: 24 (Medium, Stainless)
Pickups: neck - Seymour Duncan Hot Tele 16K,
bridge - Fender Black Dove P90
Controls: master Volume and Tone, 3-way LP Toggle

Neck Joint: Spiked, with machine screws & metal inserts,

Strings: Zachary Optimum Tensions, 10++ RW set
Weight: 6.72 lb.
---
Inspiration
I wanted to try a new thing with this Tele and go with a narrower fingerboard at the nut. This has a 43 mm nut width (same as Gibson), instead of my usual 45.5 mm width. This also has the same string spacing as a Gibson at the bridge. So its narrower than a Fender Telecaster at the bridge. Essentially its like playing a Gibson on a Telecaster platform. I love it. I also wanted to do a sunburst oil finish over Mahogany. The 24 Stainless Steel frets make this play like a firebreather.
I initially used a DiMarzio Soapbar humbucker in the neck position (without a cover), as you can see in the pics but then I decided to instead go with a Fender Black Dove P90 pickup, which I bought a good supply of years ago. To be consistent with the look of a traditional Tele bridge pickup and to maintain the same visual for the P90 neck pickup and wondered what it would look like to use it without a cover and to wrap it with string. I had never seen this done before. I may be the first one to wrap a P90 with string and not use a cover on it. I think it looks quite cool, so raw and rad. This comfortable, light-weight, Zachary ZT is currently my main guitar, as it can do virtually anything, from country, jazz, Roy Buchanan to Zeppelin and beyond.