Zachary Handcrafted Guitars - Z-Bird Firebird 041017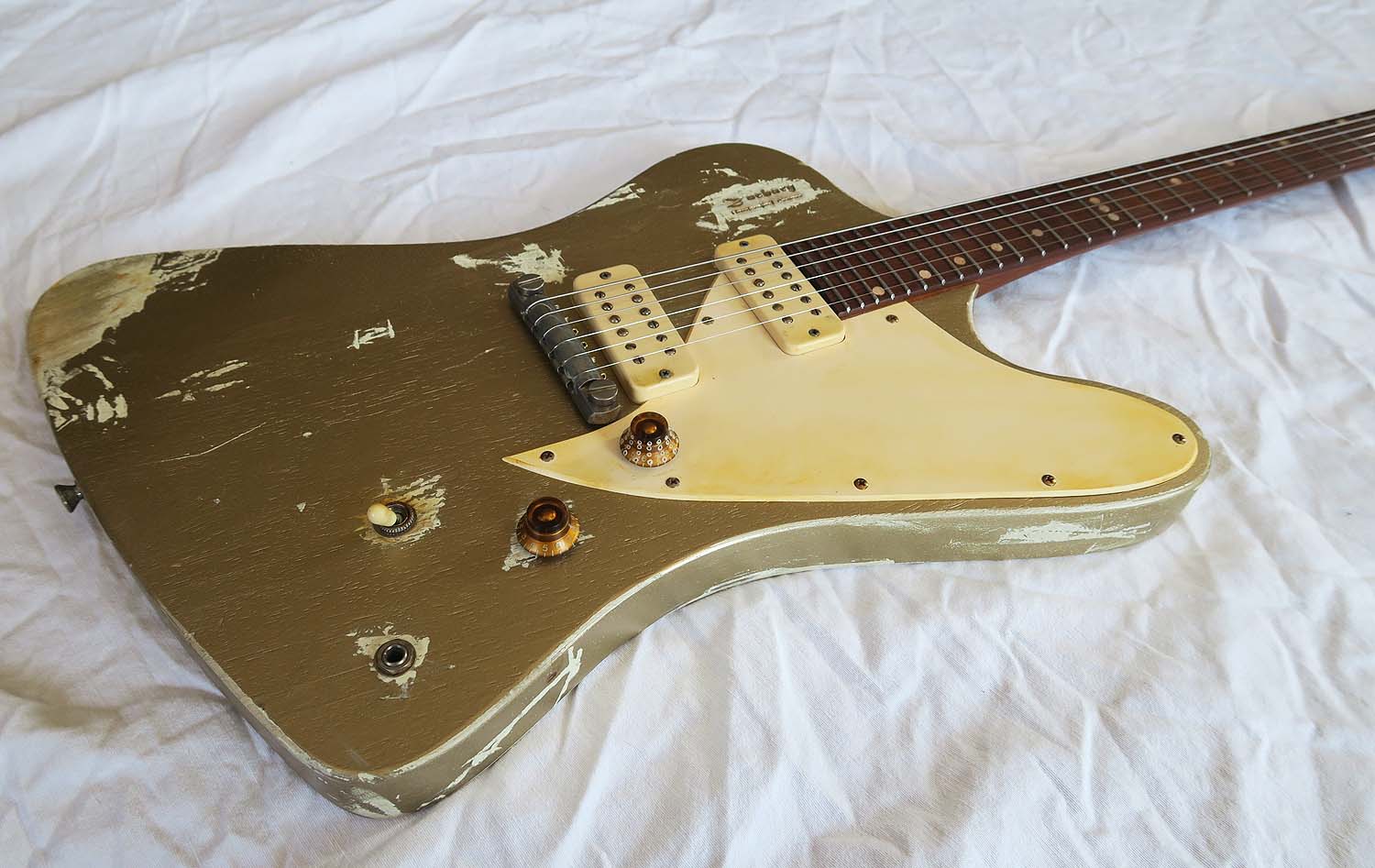 Body Style: Z-Bird (Firebird)
Body Wood: Korina
Neck Wood: Mahogany
Fingerboard Wood: Pau Ferro
Scale: 624 mm (vintage Gibson)
Tuners: Kluson-style
Frets: 24 (Medium, Stainless)
Pickups: neck and bridge - DiMarzio Tone Zone humbucking soapbar
Controls: master Volume and Tone with pull coil split, 3-way LP toggle
Neck Joint: Spiked, machine screws / metal inserts
Strings: Zachary Optimum Tensions, 10++ set
Weight: 6.4 lb.
---
Inspiration
I always liked the Gibson Les Paul Goldtop look with the cream pickups and pickguard. This is what I was after with this Z-Bird Firebird.
The Firebird body is rather large, this is why Gibson made it thinner but it still comes in as a heavy guitar and the neck is placed too far to the edge of the body making the Gibson Firebird neck heavy. So, I set out to redesign the guitar, as always. I place the neck more inward toward the center of the body, creating a much larger and more stable neck joint area and this also gives this the Firebird a much more balanced feel. Of course, I also give it at least 24 frets.
I wanted to keep the weight down, so I chose Korina wood as the body material. This particular Korina is extremely light and soft. It dents easily, even while the guitar is being made. No wonder mass manufactures do not use this wood often and only use the heavier, harder variety, as in the original Gibson Flying V and Explorer.
This usually soft wood is too hard to work with and is very fragile. Its not even dense or hard enough to hold screws and each screw hole must be reinforced. The softer the wood, the harder it is to work with and additional, time intensive steps must be taken. Most people are not aware of this.
In exchange you get a very resonant, light weight and organic feel to the guitar. This is a 6.4 lb Firebird. Compare it to the usual 10 lb. Les Paul.
I went with some high power humbuckers in P90 size. This guitar can go high power humbucker but it can also go single coil, so its quite versatile. The tone knob is a push/pull and if you pull it, you put both pickups in single-coil mode. So you get the best of both worlds and two different styles of a guitar.
This Zachary Guitar, as usual, Kicks Ass!
---